Aerial Application Service
We utilize both our Bell UH1H helicopters and Air Tractor 802 airplanes to spray.  We choose the right machine for the mission dependent upon the terrain. All of our aircraft are outfitted with Tracmap DGPS swath guidance systems which allows us to upload and download shapefiles easily.  We have also incorporated an auto on/off system to our swath guidance system for increased accuracy and safety (the pilot can concentrate on flying instead of operating the spray system). The auto on/off has become invaluable to us when spraying around sensitive areas.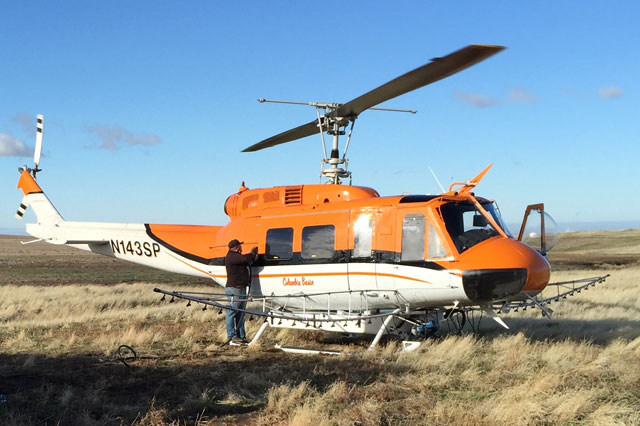 Herbicide:
We spray Federal, State, County and private landowners for control of invasive annual grasses including Medusahead Rye, Cheatgrass, and North Africa Grass using imazapic herbicide to improve sage grouse habitat. And, we mix our loads in stainless steel tanks to prevent contamination.
Insecticide:
We spray a certified organic product called Bacillus Thuringiensis (Bt) to control European and Asian Gypsy Moth, Tussock Moth and Western Spruce Budworm.  CBH utilizes Micronaire au 5000 and 7000 rotary atomizers to achieve the proper droplet size.
Fungicide:
There are over 5,000 forms of rust.  It is usually time sensitive to apply, so utilizing our larger aircraft allow us to cover more area in a shorter amount of time.
Fertilizer:
We apply urea, dap or a blended fertilizer for private and commercial farms and timber companies.
Seed:
We are able to apply seed at varying rates per acre (1 pound to 220 pounds per acre).
Hydromulch:
We are able to apply hydromulch throughout the United States for pipeline right-a-way or Federal BAER projects
Pheromone Flake Application:
Columbia Basin is the leader in MCH flake application with rates as low as 1 pound per acre.
Frost Control or Aerial Drying:
CBH utilizes our Bell UH1H helicopters for frost control or cherry drying.  We typically fly 5-10 feet above the trees and our pilots are always cognizant of any powerlines or flight hazards.  The Bell UH1H gives good downdraft given its larger size.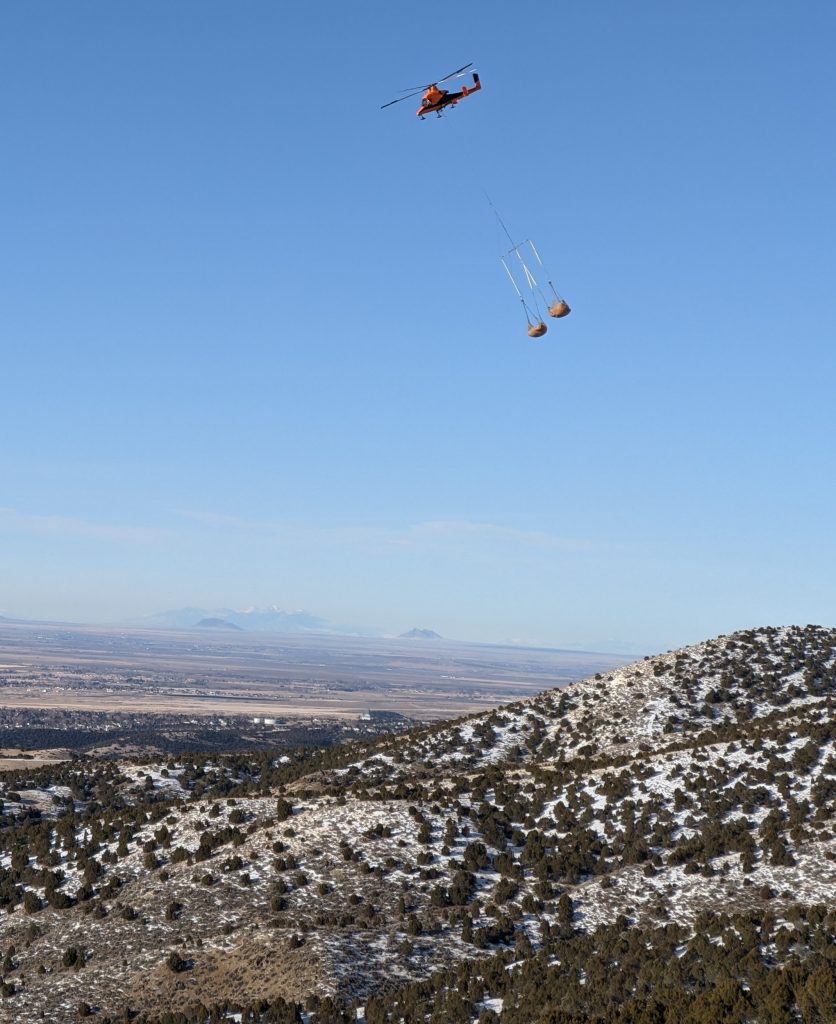 Aerial Straw and Wood mulching:
CBH has extensive BAER straw mulching experience.  Our contracts are usually "end use" with us providing all straw, straw logistics, ground support and helicopters.  We have the capability to process the straw if needed. All straw operations involve the use of DGPS mapping to identify the block boundaries.  Our KMax's and Bell UH1H helicopters are well suited for this work given their performance at high density altitudes,